An Award Winning Film:
The Lost People of Mountain Village
"This film is not funny." Steven Peabody, President, Colorado Board of Real Estate Professionals
"Clearly, these people perceived themselves as deities..." -Wade Davis, P.H.D.
The
Film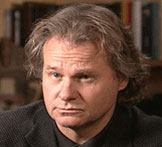 Anthropologist Wade Davis calls it "no less than the most spectacular archaeological and anthropological discovery of our lifetimes."
Dr. Jerrod Sapphire, author of "Vanished: Why Bad Things Happen to Bad Civilizations" calls it... well, you'll find out what he calls it.
Jury Award Winner, Mountainfilm In Telluride
What Really Happened?
But when a lost backcountry skier high in the Rocky Mountains stumbles on a monumental complex of structures--apparently completely uninhabited--the only thing the experts agree on is that we may never know what really happened to "The Lost People of Mountain Village."
Proceeds support Sheep Mountain Alliance
All proceeds from the sale of "The Lost People of Mountain Village" DVD go to Sheep Mountain Alliance – the Telluride Region's environmental organization dedicated to preserving the natural splendor of Southwestern Colorado.